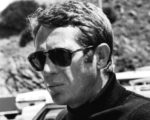 Steve McQueen Still Sells: The Impact and Influence of a Hollywood Superstar on Fashion
It's one thing to have a company invite you to endorse their product, and – at least in the case of fashion – wear it on their behalf. It's completely another when they re-name their product after you and make it a "Signature" item.
Unless you're Steve McQueen.
He didn't put his name on products. Companies proudly put his name on theirs.
Let me remind you, it wasn't McQueen approaching these companies for endorsement deals. These weren't his own products drafted for his own line. That wasn't his style, and – unlike most of today's shamelessly-self-promoting celebrities – he would consider it selling out.
Why would a brand, moreover, a luxury brand, be crazy enough to place someone else's name before their own on a product? As simple a reason as this: Steve McQueen sells. In the 1960's, his name could sell. A decade later, his name could still sell, and even today, he has just as many fans as he did then (if not more). He still sells. Go to the newsstand, pick up this month's copy of GQ, and I'm sure you'll find his picture someplace in there.
His style is timeless. And when it comes to fashion, whose fads move quickly from one to the next, "timeless" means one thing for companies: business. Steady, sure business. The item can sell itself. There's no need to put out an extensive commercial advertisement campaign, because consumers already know what the item is and what it stands for. Moreover, it's already being advertised by someone like McQueen, doing it for free and not doing it for any sort of paycheck – which, at least I think – would make a product more desirable to consumers.
He wore them by choice. When given the title role in "The Thomas Crown Affair," he chose a distinctive pair of Italian sunglasses for the character, made my Italian manufacturer Persol. The tortoiseshell framed, blue-lensed glasses grew on McQueen enough that he began wearing them on his own time, both on and off of the movie set. Persol re-released these sunglasses as the PO 714 SM "Steve McQueen" Folding Sunglasses.
Sure, the guy had some great taste when it came to clothes. But those of us who know him also know he had some very memorable cars, namely, that green Mustang from "Bullitt." Only just a few years ago, after re-designing and re-releasing the Mustang, Ford saw an opportunity for a contemporary homage to the infamous vehicle, and created the 2008 "1969 Steve McQueen Signature Mustang" Bullitt. Click here to see it in action!
Other signature items include the Herringbone International Motorcycle Jacket [from The Barbour Steve McQueen Collection], as well as the Tag Heuer Steve McQueen Edition Monaco Watch (from the movie, "Le Mans," as well as doubling as his personal racing wristwatch).
McQueen could take something so every day, so layman, so functional, and not only make it his own, but make it immensely popular. He wasn't the first celebrity to wear the G9 Original Harrington Jacket. Sinatra did. So did Elvis. Search this jacket on Google Images, and take a guess at which celebrity is the first to appear in your search results.
Hint: it isn't either of the aforementioned international superstars. Let's just say it pairs really well with those aforementioned sunglasses. And, by no coincidence, the history of this jacket (with a shot of McQueen wearing it) is featured in the May 2012 issue of GQ. "Thomas Crown" was released in, oh, 1968. Meaning you could've bought that jacket almost 50 years ago, and it still hasn't fallen out of fashion. Name any other celebrity whose sartorial influence has that much staying power. I doubt you'll find one.