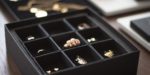 Sharing this wonderful article from Stilnest Jewelry.   Enjoy!                                                       We love jewelry – rings, necklaces, bracelets; if it's shiny and pretty, we love it. In order for our favorite pieces to stay as beautiful as they were when we bought them, we need to care for them. There are quite a few tricks on how to properly store and clean your accessories. We wanted to help you keep those pieces of yours as beautiful as ever. So, here is a quick rundown of storage and cleaning tips, plus some handy tricks on how to prevent damage which might occur a day to day basis.
Damage prevention: We love dolling up, but did you know that your favorite perfume and that amazing foundation might actually damage your jewelry? Try to avoid your pieces contacting lotions, cosmetics and perfume. If you think this might be impossible, wait at least 20 minutes after applying any of the things mentioned above, before putting on your accessories.
Damage prevention: Our jewelry is like second skin; it is a part of us. If you want to preserve the beauty of your jewels, we advise you to take them off during the following activities; swimming in a pool, enjoying the beach, showering, and manual tasks such as cleaning the house and dishes, gardening, or painting. Chemical products, sand, soap and chlorine water are toxic for the plating of your pieces and might even cause discoloration. And during sleep, sports or any sweaty activities; take them off and keep them safe. Sweat can tarnish the metal and damage it while moving aka a big no, no!
Storage: We know that this tip seems kind of obvious, but it really is one of the best! Keep your items stored in the little boxes they came in; this will keep them from tarnishing and damaging in a lot of ways. You might not realize it, but even the clasp from your necklace can scratch the smooth surface of a pendant. Imagine what storing rings, necklaces and bracelets in one place can do. So keep those items stored in their packaging for maximum safety.
Cleaning: Because of the delicate nature of jewelry, it is best to use soft and dry cotton fabric to clean your items. Use a flannel for example. You can also get professional jewelry Polishing Cloths for maximum results. If you decide to buy any kind of metal cleaning product, make sure you read the instructions carefully beforehand so you go through the proper steps and don't accidentally ruin your favorite piece.
Cleaning: If all hope seems lost and any of your items is really dirty, take them to a jeweler. He will give it an ultrasonic bath that will get it perfectly clean.
Cleaning: Ever wondered which methods of cleaning you should never try? Here you go; toothpaste, alcohol, bleach, nail polish remover and sodium bicarbonate. These liquids will ruin your pieces instead of clean them, which is of course what we are going for. There are a lot of specific products for cleaning jewelry, go for one of those!
When you decide to invest in something nice, keeping it looking fabulous is just as important. We hope these tips will help you. Make sure you share this article with your friends and family so they too can enjoy their jewelry for a very, very long time! From www.silnest.com